UPDATE: Added figma KAITO in the list.

Thousand apologies for not posting anything for so long. Finals year is taking a toll on me.
On another note, this articles will goes on to report and review some of the incoming Vocaloid products, be it album or figures that is available for purchase.

P.S: Have you guys watched the latest Vocaloid Concert during the 'Last Night Carnival NicoNico ChoKaigi 2013? Astonishing, isn't it?
Shimapan is also a product no? = w =
Links for PO are provided in the articles (

BOLD

), and if you have difficulty in PO-ing, you can contact me [hellcove] in the MVP FB page. All price mentioned is excluding shipping.
Albums
1. Reboot by Jimmy Sam P/OneRoom featuring Hatsune Miku and Megurine Luka
After been quiet since his last work '

No Logic

', the creator of '

From Y to Y

' make a comeback with a new solo album of 16 tracks featuring Miku, Luka and his very own 'Vocaloid' named Samune Zimi. The album will be released tomorrow on 15th of May 2013 with extra goodies such as key holder and phone strap on first come first serve basis. It might be too late to obtain the extras but you still can PO the album via

CDJapan

,

Amazon

and

AmiAmi

for only roughly 2000yen/RM60. Below are the track-list for the album. More details such as cross-fade and preview of the new songs such as 'Reboot', 'PYX' and others can be viewed from

his new site here

.

Tracklist:
1.

"(第一日目の扉)"

((Daiichinichime no Tobira))

2.

"新世界セッション"

(Shin Sekai Session)

Hatsune Miku

3.

"Reboot"

Hatsune Miku, Megurine Luka, Samune Zimi

4.

"PYX"

Hatsune Miku

5.

"サンセット"

(Sunset)

Hatsune Miku

6.

"Lunarian"

(instrumental)

7.

"夢幻放射"

(Mugen Housha)

Samune Zimi

8.

"Crossroad"

Hatsune Miku

9.

"Joker"

Megurine Luka

10.

"Infinite Color"

Hatsune Miku

11.

"おやすみのうた"

(Oyasumi no Uta / Goodnight Song)

Samune Zimi

12.

"Dreamscape"

Megurine Luka

13.

"水槽脳"

(Suisou Nou)

Megurine Luka

14.

"Mantra"

(instrumental)

15.

"Afterglow"

Megurine Luka

16.

"Starduster (Orchestral ver.)"

Hatsune Miku

2. in the rain by keeno

Recently coined as the 'Legendary Dark Master', keeno who is known for his work using Miku Append Dark has finally released his first solo album entitled 'in the rain'. Personally this is a must get for me as his fan since his previous supposedly album 'at dusk' 's release was cancelled. Not only buying as support, but with his famous work such 'glow' and 'crack' this is something Vocaloid's fan has to add into their album collection. Not much details revealed on the extras availability but the album is confirmed to contain 13 tracks and to be released on 19th June 2013. You can PO the album from

CDJapan

,

AmiAmi

and

Amazon

. Below are the track-list of the album and here is the

crossfade link

.

Tracklist:
1 . Dusk

初音ミク Append (Dark)
2 . Longing

初音ミク Append (Dark)
3 . crack

初音ミク Append (Dark)
4 . Lying

初音ミク Append (Dark)
5 . glow

初音ミク Append (Dark)
6 . Recur

初音ミク Append (Dark)
7 . fix

初音ミク Append (Dark)
10 . wipe

初音ミク Append (Dark)
11 . bitter

初音ミク Append (Dark)
12 . depth

初音ミク Append (Dark)
13 . drop

初音ミク Append (Dark)



3. Fictional World by Papiyon

Also known as ChouchouP (hence the butterfly trademark), this would be his second album after 'Glorious World'. Better known for his work of

'

Eh?Ah Sou

!

', his piano-work in most of his songs is amazing and worth-listening to. Jacket album is done by

Niddy-2D

with promise of extra goodies such as phone strap on first come first serve basis.The album featuring his latest work '

Gensou Satisfaction

' shall be released on 7th August 2013 and can be PO-ed on

Amazon

,

AmiAmi

and

CDJapan

. Only 6 tracks has been confirmed so far as below:

Partial Tracklist:
1. Black Board Hatsune Miku
3. Tsukimiyo Rabbit Hatsune Miku
4.Senaka Awase no Boku to Kimi Hatsune Miku
6. Gensou Satisfaction Hatsune Miku
Figures
1. Character Vocal series 01 Lamp Miku feat Nekozakana.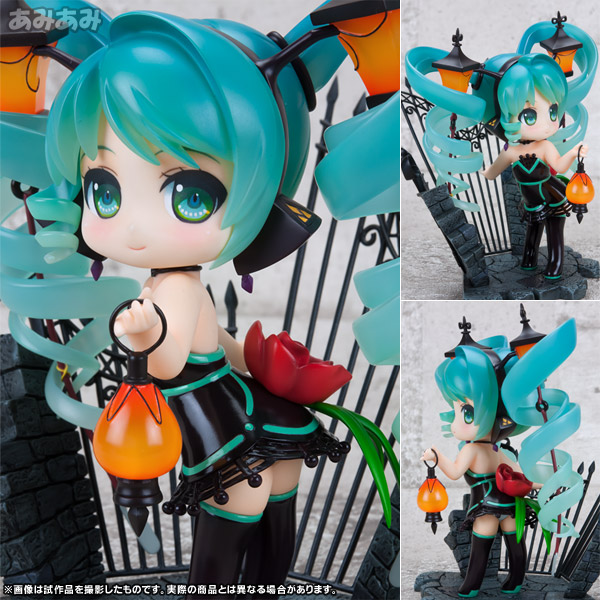 I have no idea which song this figure originated from, possibly from this
illustration
. Regardless, it will be a wonderful addition to PVC collectors. It has both sexy and cute feeling of Halloween to it. About 15cm in size and slated to be released on late October 2013, this figure by Alphamax can be PO-ed from
AmiAmi
for 3700yen/RM110. The figure can also be ordered from
PlayAsia
and
J-List
.
2. Nendoroid Kagamine Len and Rin Append
The twins getting an Append treatment for their figures in the Nendoroid series. Both come with three type of expressions and a base where you can pose them together, back-to-back. Priced around 2680yen/RM80 each, the adorable twins will both be released on late Jun 2013 and can be PO now at AmiAmi. There are sold separetely as

Kagamine Len Append

and

Kagamine Rin Append

Nendoroid Series.


3
. figma KAITO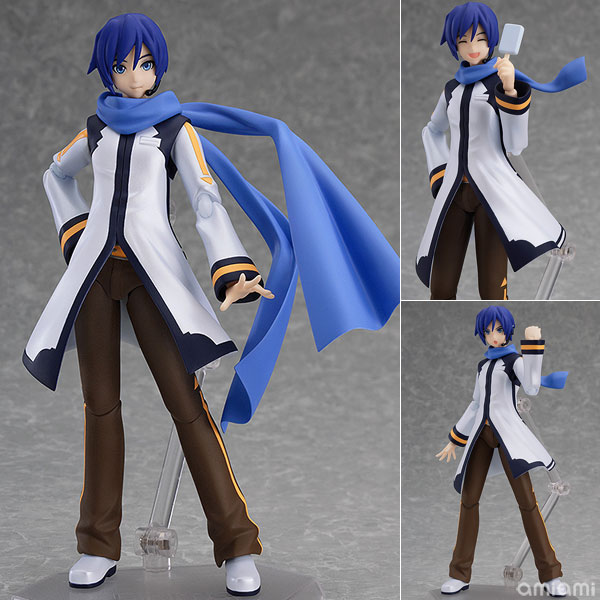 Following the request made by fans during the Good Smile 10th Anniversary Product Request Poll, the big brother of the Crypton family has been announced for release as figma. He comes with three different expressions, short and long scarf as wel as his trademark food item an ince-cream. Slated to be released on late September 2013, this figma can be PO for around 3200yen/RM95 in

AmiAmi

. For more poses and pictures feel free to visit mikatan's blog as she reviewed the figma yesterday.


Misc
Character Vocal Series Earphone Jack Accessory BOX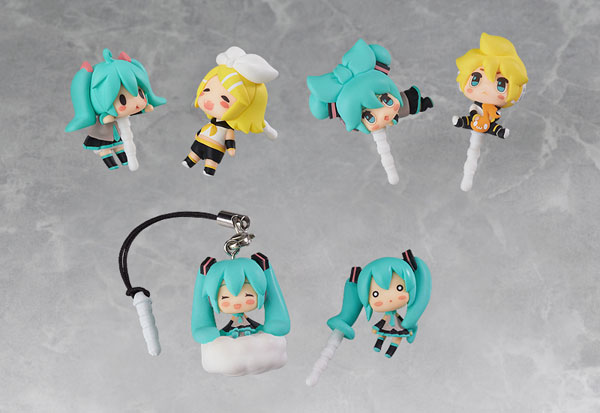 Cute earphone jack accessories for your smartphone. One box is priced at 3210yen/RM100 with random chances of collecting these 6 adorable accessories. You can order from

AmiAmi

or if you are Malaysian, contact [hellcove] as I am selling it for RM20 per piece~ Hehehe pardon my self-promo here. TE-HEEE~
The earphone jacks are slated to be released on late August 2013.