Miku.
No.
Stop taking money from mah wallet. Orz
Click "Read More" for more products review.
*all prices mentioned excluded shipping and are rough estimate from yen into ringgit
*PO means pre-order
FIGURES
Since I already covered the
Dolfie Dream Miku
, let move to other new figures available. First one is GUMI. Well they apparently have 3 VERSION of this, so why not make it the time for GUMI FIESTA!! First:
1.
Megpoid GUMI 1/8 Complete Figure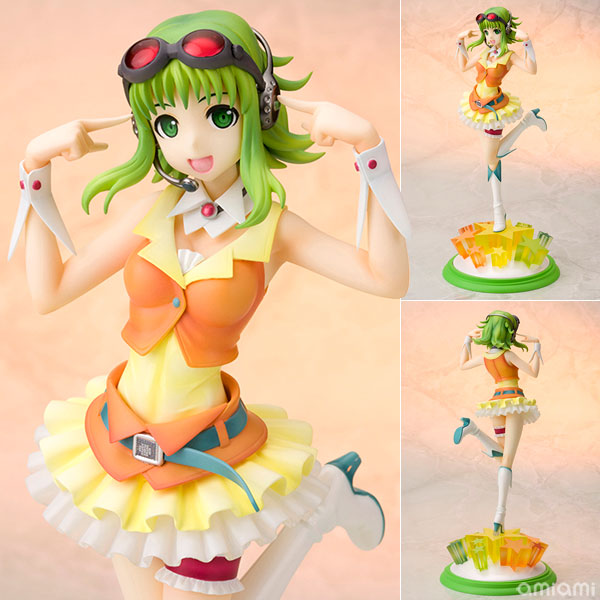 From sculptor Kodanuki, we are granted with the presence of the original Megpoid GUMI design. The 1/8 scale figure seems to come with a star stages with GUMI posing cutely on it. Priced around RM200-235, the figure is now up for order in
AmiAmi
,
CDJapan
, and
Amazon
and will be released on late November 2013.Yes, this month possibly around the 27th.
2. Mamama-style GUMI from Megpoid Whisper 1/8 Complete Figure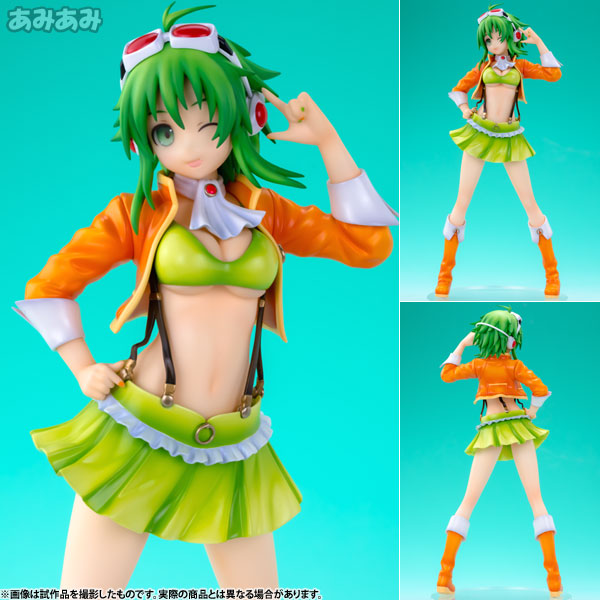 The 2nd GUMI figure is a MamamaP version of the infamous V3 GUMI Adult/Whisper, who are both loved and criticized for its 'underboob' design. Regardless, GUMI looks nice here as a 1/8 scale figure, winking at you with a playful smile. While it is already up for PO, the figure which is priced at RM250+ is slated for released on the next year February 2014. Those who are going to bring this sexy GUMI home can PO now from
AmiAmi

,
CDJapan
, Amazon and
Hobby Search
.
3. Mamama-style GUMI from Megpoid Native 1/8 Complete Figure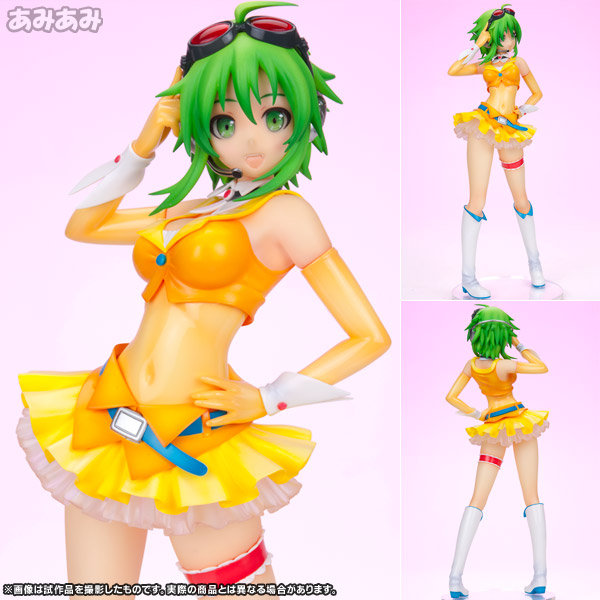 The last GUMI figure update is another MamamaP's version of GUMI Native, which is similar if not the same with the previous one at the top. The only difference is the pose and MamamaP's GUMI has a orang arm cover. The scale figure was already released on September 2013 pricing around RM275. If one interested to buy,
AmiAmi
has a PO up with an exclusive item in form of a
wall poster
. Other site such as
CDJapan
and Amazon is also selling this figure.
H" - Calne Ca Complete Figure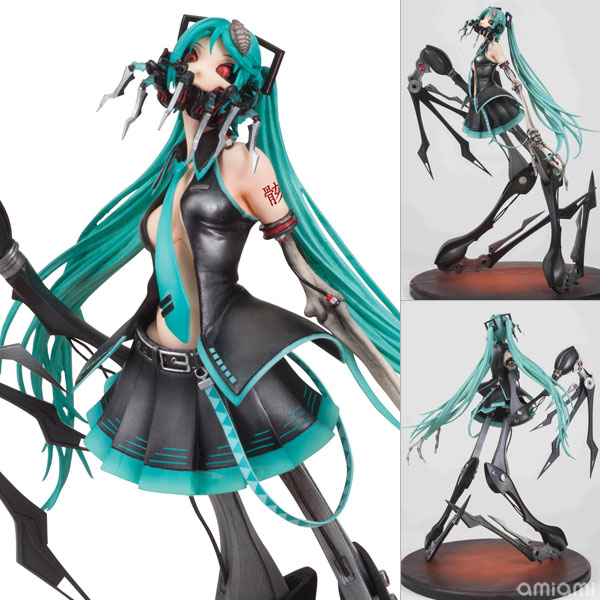 To those who is not familar with this sick and beautiful designed character, "Calne Ca" is a Crypton officially recognized "VOCALOID Subspecies" character. The movie clip "Saikin Osen" has been viewed by over 250 thousand people in a year and is still gathering popularity all over the world. The 1/8 scale is designed by Deino and sculpted by Keita Kawai. Priced around RM330, it is up for PO in
AmiAmi
, CDJapan and
HobbySearch
and is slated for release on late January of 2014. Oh and it also come with a
'sexy' version in form of nurse outfit.
Truly a must have collection for Vocaloid fan and scale figures lovers.
Yukari Yuzuki 1/8 Complete Figure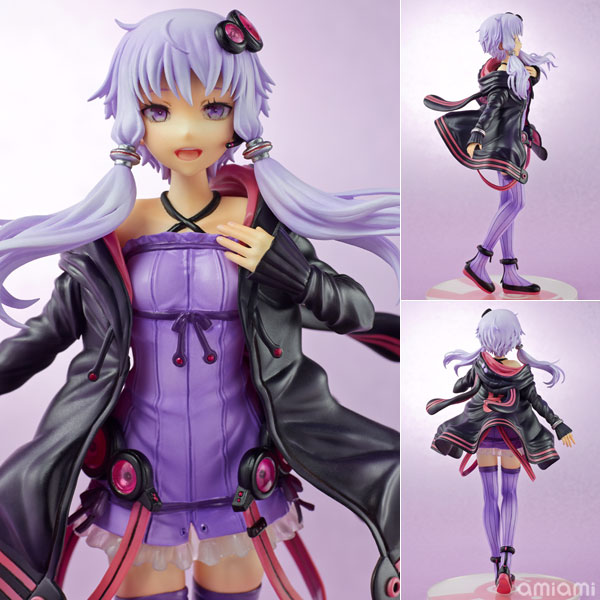 Yukari-chan needs more love from the fans. I mean seriously what's not to like about her, and especially when this lovely scale figure beautifully captured her design. The pose make her look like she trying to say, "Listen to My song" is so damn cute and lovely. Priced around RM250+ and is slated for released on next year February 2014, the figure is already up for PO in
AmiAm

i
as other sites have already closed the reservations.
BOOKS
Miku-Pack 03
Those who follows MVP and this blog might already know about this magazine as we promoted this magazine, for its full cover in Vocaloid community from composer's interview, illustration, goodies and to Vocaloid fashion. Furthermore, the 4th issue is a bit special as it will be the first one to feature another Vocaloid other than Miku as the cover and in the usual Song Collection CD included with the magazine. Furthermore it come with a freebie in form of
Senbonzakura Miku keychain
. Some place already state the book as OUT OF STOCK, but you can still order them from
CDJapan
and
Amazon
. Or refer to your nearest Kinokuniya to ask them to ship for you. Price at only RM40+, its is really must have book collection for fans.
MISC
Cute Vocaloid goodies incoming in form of:
1. Kira Miku Lesson!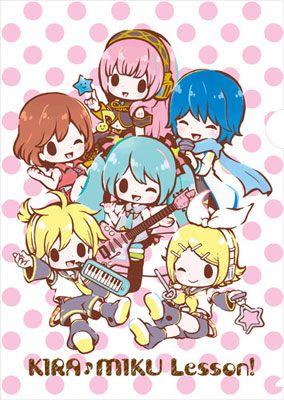 Bored with you everyday normal stationaries? No feer, Vocaloid always there to cheer
(cough*and steals your money*cough).
This series of stationaries goodies include all the Crypton family namely the Kagamine Twins, Luka, KAITO, MEIKO and of course Hatsune Miku. Above is an example of a clear file with the Crypton family winking and smiling at you, ensuring a much more cheerful study. They also come in form of tote bag, memo pad, notebook, flake seals and Post-it with various designs from illustrator Tomoko Fujiki. Priced at around RM12-RM15 per item and is slated for release internationally on late March 2014, the goodies can be PO now in
AmiAmi
and
HobbySearch
under the series name "Kira Miku Lesson" by manufacturer/maker name
Ensky
.
2. Music Box Doll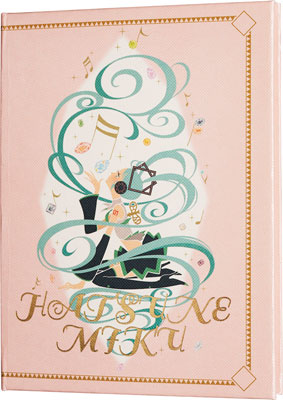 If you are not a fan of cute design, then there is another goodies series called 'Music Box Doll' just for you. Compared to Kira Miku Lesson, this series are more elegant like and have more varieties of character goods stationaries such as decal tape, handkerchief and lovely greeting cards, or a really pinkish and nice hardcover notebok as shown above. Some of the goodies might already sold out as it is slated for release sooner, on late December 2014. If one interested to buy, search for the 'Music Box Doll" series at
AmiAmi
or
HobbySearch
under maker/manufacturer name
Ensky
.
Thats all for now folks. Have fun receiving the damage :)