I like this...I like this a lot.
Wallet-kun-prepare to bleed once again, FOR MIKU's SAKE!!!
Snow Miku will get her figma version the following year of 2014. More information after the page break, but first....
HNGHHHHH!
"Snow Miku' is, as many fans might have known, is a Winter version of our diva, Hatsune Miku. The first original version come in the form of Nendoroid in the year 2010. It was believed that the cause of 'Snow Miku' popularity was due to Crypton continuous involvement and sponsors in the annual Sapporo Winter Festival. A total of four Nendoroid of Snow Miku has come out since then, and with another planned out next year. However this will be the first, that a figma version is slated for release.
It was announced by
Kahotan in the Good Smile's Company blog
about few day earlier. Thanks for fellow comrade in MVP to share it out. The figma has been confirmed to follow the design of the
Snow Miku 2011
, where it will come with a scarf and trademark snow gloves. The sculpture of the figma will however follow the recently released figma
Hatsune Miku 2.0
. This means that the expression between the two will be interchangeable. And I will let you guys a secret....the previous Miku figma expression plates from Miku Append to Racing Miku, can also fits into the molds. So this is indeed a welcoming announcement.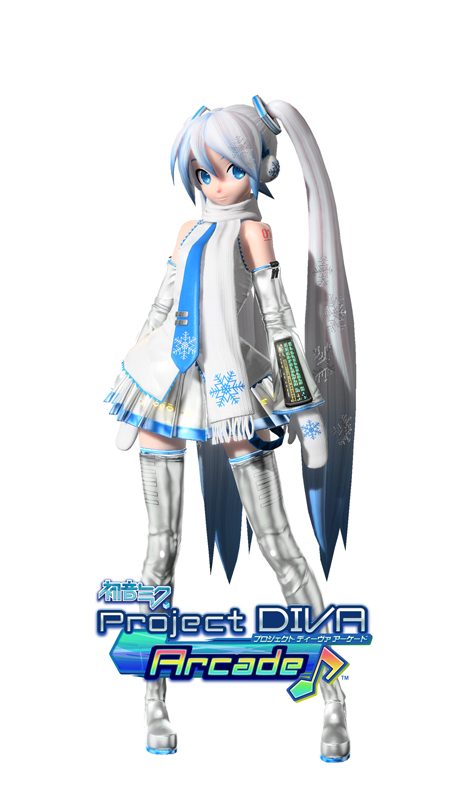 Snow Miku 2011 as shown in Project Diva Arcade.
The figma will include 3 expression plate, a default expression, smiling/singing and the embarrassed expression which really the one that capture my heart. A cute snowman with a mike posed is also included with the figma. I guess there is no use explaining, but for these sets of wonderful pictures of the figma posted for viewing.
The default pose of Miku we are familiar of.
Miku: So hot in Malaysia, I am melting >w<
Miku: Master, would you like me to come to you? *shy*
Miku: For you I come and sings in this chilly weather.
Yup. I am getting it, no question asked. Unfortunately though, unlike figma Miku 2.0, the Snow Miku version will be most likely a GSC exclusive as that the case with the Nendoroid version so far. Priced at around 4,000 yen, the international pre-order will be opened on the early 2014, which is likely to be after Sapporo Winter Festival ended in February.
However if you lucky enough to be in Japan in February or has a friend living there at the moment, you might get an earlier chance to own the figma. All you have to do is follow this step:
Go

this site

and fill up the application "First Purchase Ticket Raffle Applications". Deadline is between 5th December 12:00JST – 16th December 23:59 JST
Wait for the raffles announcement on 19th December 2013 12:00 JST.
If you lucky enough to get the coupon ticket, do be there at the 9th February "2014: Wonder Festival" to BUY the figma.
If that is not possible for you, then wait patiently for the PO to be opened next year at the "
Good Smile Online Shop
". In any case, time to save up and stalks GSC site for more info.
Hmm, I wonder if they going to figma-fied Sakura Miku as well? :3