Thank God its Friday people! Maybe its time to ditch those hard works and hang out with friends at some restaurants, club or just simply shared glasses of Teh Tarik with your friends at nearby mamak stall. Fellow Malaysian will understand what I meant here. So thats it people, I decide to go with a theme today, that is FRIENDSHIP~ Enjoy.
But before that a small announcement, the recording for Mikupa and 39's Giving Day concert has been officially set for release 29th August 2012 in BD or DVD. Go to
AmiAmi
, to pre-order~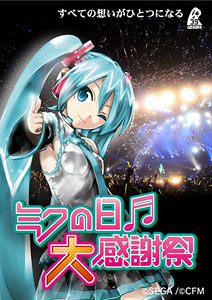 Alright now lets start on the music shall we?
First we will have a song about communication between friends, where sometime what came out from our mouth does not match what are really trying to convey. We yearn for someone to understand us, is what I think this song message is.
I give you, Outward and Inwards (
外見と内面
). Vocal Hatsune Miku DARK composed by
scop
, the same producer that make 'A Liar World'. Enjoy it~
The music and vocal arrangement will indeed give you thoughts and touches your heart. Next song we will have our ear entertained by another Miku song entitled Vacant Land of Earth (
地球の空き地
) composed by
Harry
. No, not that Harry. Its a song about losing someone, either loved ones or friends in a conflict of human beings.
In any rate, please enjoy the song.
Third song, a song with a question. Hatsune Miku again, singing a song composed by
宮沢もよよ
, asking you, 'We are friends, aren't we?'
Alright thats all folks, thanks for listening tonight and have a good Saturday tomorrow. Last song we will change theme a bit, because...it just unique. Hope you enjoy it. Until next time.